Pros &; cons of buying out-of-state rental property
Not everyone can afford to invest in rental property in the area they live in. In some regions, housing prices are so high that it may be difficult to add to your real estate portfolio. Whether cash buyers outbid you or you can't get financing to cover the high costs, it puts a damper on your goal to add real estate investments to your portfolio.
Fortunately, there's a simple way around it – investing in out-of-state rental property. And you don't have to live in an area where the rental property is unaffordable; anyone can benefit from investing in real estate outside of where they live. Still, like any investment, there are pros and cons – here's what you must know.
Reasons to Invest in Out-of-State Rental Property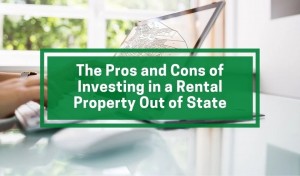 It may seem strange to consider investing outside of your state. Why would you invest long-distance? How will you take care of the property or find tenants?
Let's look at reasons you may want to consider it:
You can't afford to buy in the area you live in.
You want to invest in an area with a higher demand for rental properties.
You want to diversify your risk by investing in multiple markets.
Some areas have lower property taxes and expenses than others.
You found a property you love and may want to retire to one day but will rent in the meantime.
What Are the Benefits of Investing Outside Your State?
Before we get into how you invest in real estate outside your state, let's look closely at the benefits so you can see why it's a good idea for many investors.
You May Save Money
If you live in an area where real estate and the costs to maintain it are expensive, you may find more affordable options elsewhere. If you can buy a home for less money and spend less on maintenance and repairs, you may come out with a more significant profit.
Many people choose to invest outside their area because they know the costs are lower, yet the rental demand is high. So they do their homework, see the potential cash flow, and decide it's better to invest outside their state.
There May Be Better Opportunities for Higher ROIs
If you do your research and get into an area where the population and job growth are on an upward trend, you may land a goldmine. With lower purchase costs and the chance of increasing rents, you could have more cash flow and earn more profits when you sell the property.
Even if you only jump into the market for a few years before you sell the property,  you could walk away with a higher return on investment (ROI) than if you invested in an area with high costs and low growth.
Diversifying Your Investments Is a Good Strategy
Putting all your eggs in one basket is never a good idea with any investment. If you put all your money in your local real estate market and it tanks, you could lose everything.
If, instead, you put some money in your local market and other funds in homes in other areas, you offset the risk of one market falling apart since, even if one market performs poorly, another might do quite well.
You Can Remove Yourself From the 'Daily Work' Involved
If you invest outside your state, you may want to hire a property manager. While it adds to your expenses, an experienced property manager may actually save you money in the long term by ensuring you're charging market rent, screening to accept only qualified tenants, and potentially negotiating cost savings with local vendors for maintenance and repairs. Without the need to watch over the property, take the 3 AM phone calls, and do the repairs yourself, investing in real estate becomes less time consuming.
What Are the Downsides of Investing Outside Your State?
It takes a lot of research to get to know the market. If you don't live in the area, you likely won't know much about the market. Even if the market looks good now, is it a fluke? Is the market usually mediocre? You also may not know the area – what areas are desirable or what schools are best?
You won't be able to see it much. Suppose you are a hands-on investor who likes to periodically visit your investment. You feel uneasy about being far away from your investment, relying on a third party to tell you how it's going.
The laws may be different. You may be familiar with the laws in your area regarding rental homes and real estate, but they may differ in other states or localities. If you aren't aware of the rules, you could break them and be subject to costs or liability. If you work with a qualified property management company, they'll understand the rules in the area and help ensure you follow them.
You may have to buy a property without seeing it. Unless you travel a lot, you may have to buy a house without seeing it. Today, the real estate market is especially hot, and homes sell fast. If you don't move fast, you could lose the deal. This often requires buying a house without seeing it.
What to Look For in an Out of State Rental Property
You'll look at the same factors and features in an out-of-state property as you would an in-state property, but you should consider a few more factors since you may not be familiar with the market.
Job Growth
Job growth directly affects rental rates. If an area is booming, especially if new (large) companies come to the site, you'll have a larger rental market. With population growth comes the need for more homes. Not everyone will have the finances or desire to buy a home, but you can provide it for them and collect the cash flow.
Proximity to Amenities
Most renters want convenience. In some areas, they want proximity to the largest city, and others wish to access schools, stores, churches, gyms, and transportation.
Market Growth
Look at the area's market both today and historically. A good measure is to look at the days on market (DOM). Today most markets have a DOM of 30 days or less, which is a hot market. But in regular times, you'll see a DOM of 3 to 6 months. Anything more than that, and it may not be a market you want to invest in.
Average Home Price Compared to Middle Income
A good rule of thumb is to invest in an area with an average home price of 3 to 4 times the average income for the area. If the average home price is much higher than the average income, it may not be affordable for many potential tenants.
Rental Demand
Of course, it doesn't make sense to buy a rental property in an area without a demand for rentals. Look at the stats using a site like Roofstock. Crunch the numbers and find out if there's a demand for rentals in the area–or if you'd be stuck with an investment that no one wants to pay for.
The Best Way to Invest in Real Estate Out of State
If you've decided investing in real estate out of state is right for you, the next step is making it happen.
Sure, you could do it the traditional way and hire a real estate agent and view properties, but it's not feasible if the market is a long distance from where you live. Unless you're investing in an area with a large number of DOM, a house will likely sell before you get out to see it.
Instead, here are your options:
DIY. Look at the multiple listing service (MLS) listings yourself using a site like Zillow, call real estate agents, and arrange for virtual viewings of the home. If you like the house and want to buy it, you can do most of the work from your own home but you may need a real estate agent you can trust with such a big job.
Network. Build a network of real estate professionals around the country, so you know you have eyes and ears all over the place. When you find a property you are interested in, you can rely on your opinion and expertise when deciding if you should buy the property.
Use a marketplace. Using a marketplace like Roofstock, which specializes in buying and selling rental properties, you know you're getting top-quality service. Roofstock does the research for you and can even certify some homes listed on their website, which makes them eligible for a 30-day money back guarantee. Many Roofstock properties come with renters already in them, too, making it easier to get started on your investment journey.
No matter how you choose to invest in real estate out of state, it's essential to know professionals who can help you. For example, if you use Roofstock to buy your property, they can recommend property management companies to help you manage the property.
You'll also need a network of contractors, lawyers, and financial advisors. It would help if you had a team that understands the laws, what homes in the area need, and how to help you increase your investment so you make the most profits.
The Bottom Line
Should you buy property out of state? It depends on your finances and your preferences. However, with the proper research and due diligence, you may save money when buying a home and earn money on the profits–both on the monthly cash flow and when you sell the house.
Invest in areas with high rental demand and above-average appreciation to ensure you get the most out of your investment. Diversifying your real estate investments across multiple markets is a great way to manage your risk of loss and your chance of significant profits.